The quick version 🏃
Q:be wanted to build awareness among enterprise CMOs and Marketing Directors

We interviewed their customers to understand their pain points, how they solve them and what makes the product unique. We then developed a targeted campaign that used content, emails and ads to generate qualified leads among their target audience

The campaign has generated 45 high-quality leads to date, including senior marketers from Samsung, Unilever, Pepsico, VMWare, Dell, WePro, AstraZeneca and other global brands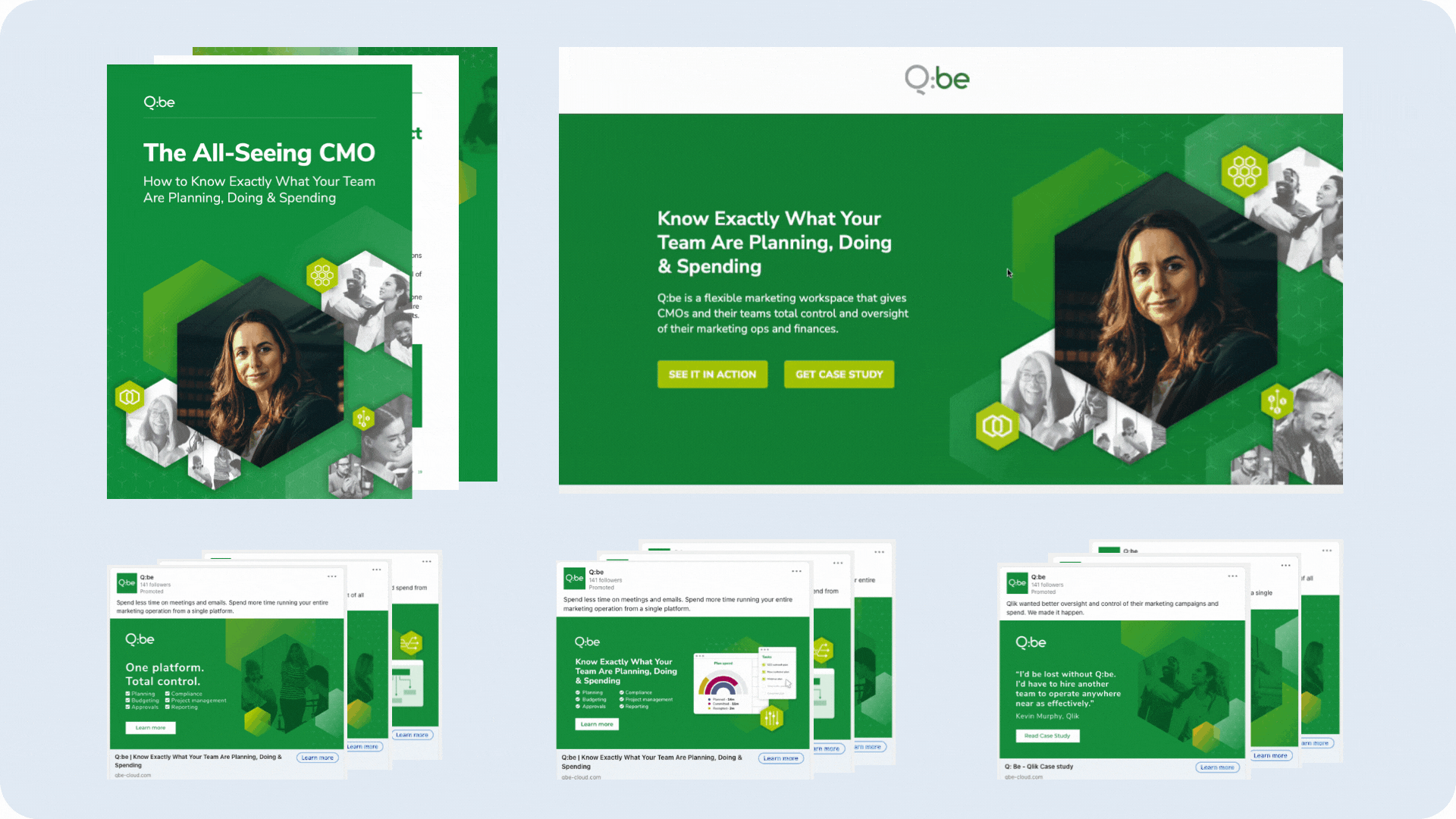 The long version 🤓
Q:be helps CMOs take control of marketing planning, spend control, approvals and compliance. They have over 20 years' experience building bespoke marketing performance solutions for global enterprise companies like Visa, Seagate, Honda, McAfee and Qlik.
The challenge
Q:be had always relied on word-of-mouth and their personal networks to grow the business. They wanted to start building awareness and pipeline among enterprise companies outside their networks.
They needed a partner that could identify the pain points their product solved. And then target those pain points with unique, high-quality content distributed via emails and ads.
Our solution
We interviewed Q:be's customers to get to the core of why CMOs need this product. Our research found that CMOs struggle to answer a few fundamental questions:
What activity is my team planning and what will they need to spend?
What are they doing right now and what are they spending?
What have they done already and what have they spent?
If you can't answer these questions, controlling your spend is basically impossible. And if you're managing a multi-million pound per quarter budget, spend control is vital.
We built a campaign around the concept of 'The All-Seeing CMO'. At the heart of the campaign was a longform piece of content exploring why CMOs can struggle to establish oversight and control of their budget and how they can overcome this.
Results
The campaign has generated 45 high-quality leads to date, including senior marketers from Samsung, Unilever, Pepsico, VMWare, Dell, WePro, AstraZeneca and other global brands.