The quick version 🏃
Gaina help food and drink wholesalers increase sales value and volume while reducing warehousing errors and inefficiencies

They wanted to educate the market about how they could help them and drive sales calls for their team to close

We defined new customer-oriented messaging for a niche audience of drinks wholesalers. We used this messaging to launch a multi-touchpoint campaign consisting of a conversion-optimised product landing page, case studies, sales enablement content, ads, outbound emails, organic social and a new sales proposal template (you can see these below)

We also used LinkedIn's ad firmographics to tell their sales team which companies were most engaged with our ad-distributed content so they could target them directly

To date, the campaign has generated more than £350K pipeline value with a projected lifetime value of over £1 million and closed over £200K of revenue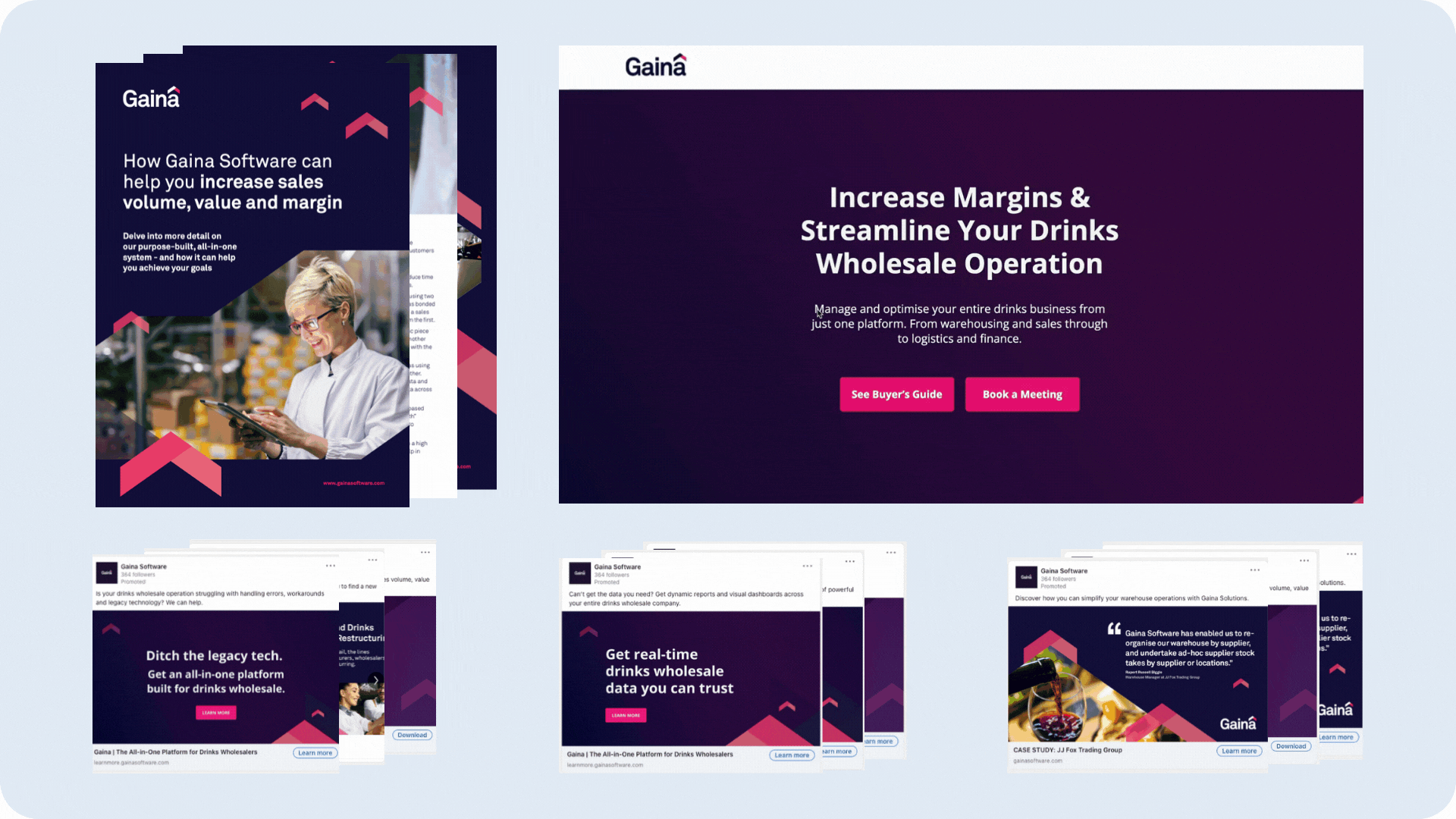 The long version 🤓
There's a lot of questionable marketing 'best practice' out there. But here's one piece of best practice which is absolutely true: the importance of multiple touchpoints.
Marketers often look for that one channel or tactic that's going to make all the difference. But that's rarely how it works. In my experience, the campaigns that drive real results – by which I mean qualified sales opportunities – are the result of multiple channels working together.
This case study is a great example of how to execute one idea across multiple channels to generate qualified sales opportunities and closed deals. 
The client
Gaina have been developing software for UK food and drink wholesalers for over 35 years. They have a range of products covering everything from warehousing management to sales and purchasing through to finance and IT. 
They tried their hand at marketing in the past but struggled to build the in-house skills and expertise they needed. This time they decided to try something new. Rather than doing everything in-house, they would bring in a Part-Time Marketing Director, supported by an external agency.
The challenge
Our brief was pretty straightforward: educate UK and Ireland drinks wholesalers about how we can help them, so we can generate sales opportunities to pass onto our sales team. They had a website, but little else in terms of content, email and ads. 
Our challenge was to define the right narrative, create all the necessary content, launch the campaign and optimise it on an ongoing basis.
Our solution
We came up with a simple plan:
Interview Gaina's key customers to understand why they bought Gaina's software and why they continue to use it

Define new messaging that targets the specific pain points, benefits, features and proof points identified during the research

Turn that messaging into a landing page that's optimised for conversions

Create new case studies, sales enablement and thought leadership content to educate our market and build trust

Launch social ads and ongoing organic social to build awareness, alongside targeted outbound email to convert qualified sales opportunities
This programme of work was spread across 12 months, building strategically layer-by-layer. Now the campaign is in place we're looking for new opportunities to optimise what we have and fill any remaining gaps in the customer journey.
Results
The campaign has driven more than £300K of qualified pipeline since launch (and counting!). At the time of writing, a deal worth £200K has closed, which more than covers the costs of our fees. Since this is an evergreen campaign, we expect many more opportunities to be generated in the future.
Thanks to Hannah, Kealan and all the team at Gaina for being a great client and giving us the opportunity to work with them.